Yesterday was my first day back from an almost week long vacation in The Ohio. I stayed with a friend from childhood and let me say: WE HAD A BLAST!
Sadly, some of my best pictures stayed with her in The Ohio, so I'll put them up on a later date. But I'll share two of them with you right now. First, a landscape--The Ohio is muy beautiful. Even with washed out gray skies it's beautiful.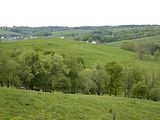 sorry it's so small, blogger's being dumb. or maybe I am. either way...sorry. click to make it bigger.
The next, the story of Maudine, the bovine homecoming queen! I love stuff like that. And the fact that Ohio State has an entire room in their student union dedicated to Maudine.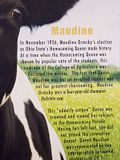 In other news
(and hopefully you made it to this point in the post because this is importantish): I'm putting up a survey for my 30th birthday bash! I'm super excited to test out google docs and I'm super excited to get feedback from you! It's over on the left sidebar. Click it and let your voice be heard!
While I'm committing to things, I'm going to add one more. I'm running a summer program for youth and it starts in just a few weeks. And because I'm chock full of funtastic (don't you love that word?) ideas to keep kiddies busy this summer, I'll be opening up another blog devoted just to that topic. That way, when you find yourself skulking around the house with nothing to do, you can just pop over there and nab some cool ideas.
Whew. I'd better get crackin'.